Activities in Costa Rica Hotel, Dominical Hotel, Uvita Hotel, Ojochal Hotel, Costa Ballena Hotel, "Mar y Selva", Dominical Hotel, Uvita Hotel, Costa Ballena Hotel, Ojochal Hotel
The Southern Pacific coast of Costa Rica is the most bio-diverse location on the entire planet and thus affords a wide range of activities provided by both Jungle and Ocean ranging from bird watching to canopy tours /zip line, snorkeling, hiking, whitewater rafting, whale watching scuba diving, surfing, sport fishing, horseback riding, mountain biking, running, swimming, and kayaking, to tours of the rain forest, the mangroves, waterfalls and the waters of the Pacific.... read more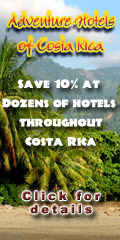 Mar y Selva Ecolodge is a member of the Adventure Hotels of Costa Rica. Find eco-friendly beach hotels, mountain lodges and unique, small hotels throughout Costa Rica.
Ecolodge - Costa Rica Hotel, Dominical Hotel, Uvita Hotel, Ojochal Hotel, Costa Ballena Hotel, "Mar y Selva", Dominical Hotel, Uvita Hotel, Costa Ballena Hotel, Ojochal Hotel

Overlooking the Ballena Marine National Park, "Mar y Selva" Eco-Resort Costa Rica- is near many other natural treasures such as Corcovado National Park, Caño Island Biological Reserve, the mangroves of the Sierpe and Terraba rivers, beaches like Uvita, Dominical in Costa Ballena welcome both photography and birding groups due to our location and facilities. providing a meeting and conference room.

We are also equipped for training swim teams in our 25 meter lap pool, and affords tranquility required for small groups such as yoga retreats etc.  Also provided for the convenience of our guests onsite rentals of mountain bikes and kayaks.
Our Smoke Free Eco-Resort has ten bungalows with the following amenities (fan and A/C, Satellite TV, Mini fridge, hairdryer, Personal safe, abundant on demand hot water for tub or shower, wireless internet) with daily maid service. Each bungalow of the Eco-Resort has its' own balcony/deck with two chairs and coffee table and  is surrounded by primary and secondary jungle as well as fruit trees.

Whilst hidden in the canopy of Costa Rica overlooking the South Pacific Ocean,  we are privileged to witness the spectacular annual arrival of whales from July to October and then from September to April. The sounds of the ocean and jungle will accompany you throughout your stay at Mar Y Selva Eco Resort  providing memories of a lifetime.